Leave an Inheritance that Matters
What would you do if you knew you had only thirty days to live? Such a question sends our minds running. My own answer gravitates toward spending time with loved ones. Such relationships seem to matter most.
If the divine voice told you to put your house in order, would you clean out the garage? Or would you review your financial issues, read your last will and testament, and list the texts and hymns for your funeral? Perhaps you would write a letter to each of your special loved ones as a parting gift to them.
What would you say in your parting memo to loved ones?  Work hard, read widely, travel, be generous, value friendships? Let care and kindness flow from your heart? I think maybe I would apologize and endeavor to fix any broken place I could think of, straighten out misunderstandings left too long.
Finally, I would try to let myself soak in the love of Jesus, while dumping all my failures, mistakes and sins. I'd just fill my heart and soul with Handel's Messiah, especially The Hallelujah Chorus, and other messages of heavenly affection in musical form, confident that my house was in order.
The answers I give to each of these imporant questions guides me on how I should be spending each day.
Because when my life here is over, I will leave an inheritance . . . an inheritance of memories and impressions made on the people around me.
I want to leave an inheritance that will be positive for those I leave behind. And I can work on what makes up that inheritance by what I choose to do each day.
__________________________
Write to us at ShowUp@careandkindness.org, or Like us on Facebook and add a comment there.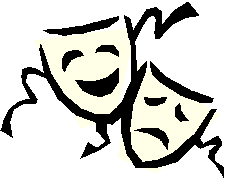 Laugh Lines
Silly Thoughts
At my age 'Getting lucky' means walking into a room and remembering what I came in there for.