We believe that we are called as followers of Jesus to live a little bit better. It's easy, it's possible, it's needed, and it's good. Everybody can do more. There isn't one person who is disqualified. We want to inspire followers of Jesus into carrying an agenda in their hearts so that every day of the week they leave home with work to do, with an assignment to notice people and with a desire to give words and attitudes that make a positive difference in others' lives.
I have a clipping from the "Dear Abby" column of March 7.
Dear Abby,
A few months ago our beloved son-in-law Tom died unexpectedly at age 39. Our daughter and her three children, all younger than 8, survived him. The night Tom died, neighbors took care of our children while others accompanied my daughter to the hospital. They waited throughout the night until we arrived from out of state hundreds of miles away.
The next day these wonderful people took their own children out of school to play with our grandchildren. Neighbors took days off to comfort our daughter. They organized a schedule of meals.
More than 15 families in the neighborhood helped before and after the funeral. Photos of our son-in-law and the family were enlarged, framed and displayed in the visitation room at the funeral home along with pictures and letters of sympathy from the neighbors' children and our grandchildren's classmates. Friends set out journals for guests to record their memories of Tom and express their condolences.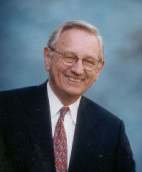 Dr. James R. Kok has written a series of articles on the essentials for a caring person. A handful of basic tools—wrapped in courage—are the keys to open doors.
As the Koach Of Kare,
Dr. Kok has been a pastor at the Crystal Cathedral for the past nineteen years and heads the Care Ministry department of the church. He is the author of five books and numerous articles, and he is the founder of the International Conference on Care and Kindness.