I stirred up a hornet's nest when I pointed out to my seven CPE students that only two in the group bothered to bid me a farewell upon departure each Friday. We had met together for eight weeks spending nearly an entire day each time in conversation and learning exercises. When adjourning most were packing up and walking out with no acknowledgment of their host, me. That bothered me and I let them know.
Pressing the issue further I guessed that each of them in their careers in higher education, as students, seldom, if ever, bothered to thank their professors or lecturers after classes ended. Even though the teacher had labored for fifty minutes giving them the best she had, often with passion and effort, they probably rushed out with total disregard for the gifts and substance that had been offered them.
Had they ever left a restaurant after a dinner or lunch without presenting a gratuity to their server? Never. Why so polite and appreciative in the eatery and totally oblivious of the gifts in the classroom? The question remained rhetorical as no one had an appropriate defense, I guess.
Their behavior has changed radically. Now I receive handshakes, hugs, smiles and other heartwarming evidence that my presence is noticed and considered. It seems genuine. Even if it is contrived, I like it.
People do not change easily without threats, force, or promise of reward. This group of seven changed, I think, because they had an "aha" experience. They were not bad or uncaring. They merely repeated old habits no one ever bothered to challenge. When enlightened they responded.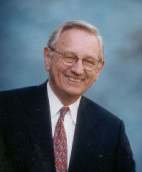 Dr. James R. Kok has written a series of articles on the essentials for a caring person. A handful of basic tools—wrapped in courage—are the keys to open doors.
As the Koach Of Kare,
Dr. Kok has been a pastor at the Crystal Cathedral for the past nineteen years and heads the Care Ministry department of the church. He is the author of five books and numerous articles, and he is the founder of the International Conference on Care and Kindness.