After seven years of waving the banner saying "90% of Helping is Just Showing Up", a footnote must be added. The original slogan did not intend to motivate people to make sure they go and visit every last friend, neighbor or colleague sidelined by illness or adversity — no matter what. No, the message of the 90% rule is that you need not be a fluent speaker or an articulate encourager to be able to lift another's sagging spirits. Your presence, merely sharing a smile, a touch, or a promise of prayer, is an enormous boost most of the time. Saying wonderful sentences is not a criterion for encouragement.
The point was that we easily excuse ourselves from reaching out to distressed folks by claiming that "we won't know what to say." So my message has been — when a visit is called for, forget that! JUST SHOW UP!
But now I add a note of caution: assess carefully if the visit is likely to be appreciated.
There are occasions where the hurting person needs solitude and rest or is already so surrounded with help or helpers that another presence is wearisome. This is most likely in an acute care hospital situation.
Medical care and hospital treatment have changed radically in the last twenty years. Hospital stays are brief. Admission to a hospital usually implies something at a peak of intensity and calling for immediate treatment. Therefore, the patient is unlikely to be having a leisurely stay and the confinement may be only a day or two, so the need for special visitors is not always high.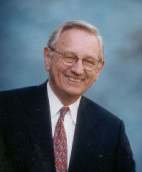 Dr. James R. Kok has written a series of articles on the essentials for a caring person. A handful of basic tools—wrapped in courage—are the keys to open doors.
As the Koach Of Kare,
Dr. Kok has been a pastor at the Crystal Cathedral for the past nineteen years and heads the Care Ministry department of the church. He is the author of five books and numerous articles, and he is the founder of the International Conference on Care and Kindness.