The following article is an excerpt from an address given by Dr. Jim Kok at the Care and Kindness Conference on March 13, 2008.
Please raise your hands above your head as high as you can, for a moment. Now, a little higher! Aha! You see what just happened? I asked you to raise them as high as you could, and you could still raise them higher! I thought you did what I asked, but there was more you could do.
That's how it is with Care and Kindness. Definitely, you are all already kind, caring, wonderful people, but we can all do better. Whether it's 10% or 20%, we can all ratchet it up.
I said to a person in my family, "You should come to our conference." She said, "Well, I'm a kind person. I do all that." And I gave her my challenge—we can all do more!
We want you to change. You're good people, loving people, but we want you to change. This is a campaign—a crusade, to change the world. We seriously, strongly, believe that every one of us is enlisted into this campaign.
I want to give you a couple of examples of how you can change. I go to the University Medical Center about once a month. I always park in the parking garage and get my ticket stamped at the doctor's office to get free parking.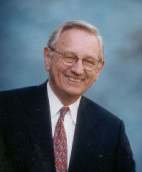 Dr. James R. Kok has written a series of articles on the essentials for a caring person. A handful of basic tools—wrapped in courage—are the keys to open doors.
As the Koach Of Kare,
Dr. Kok has been a pastor at the Crystal Cathedral for the past twenty years and heads the Care Ministry department of the church. He is the author of five books and numerous articles, and he is the founder of the Conference on Care and Kindness.