Many years ago when I was the solo pastor of a church in Iowa City, a young woman taught me a much needed lesson about receiving. At the close of the Sunday morning service I would greet the departing people. Some would offer words of appreciation for the service and the sermon.
My habit was to deflect all praise and compliments. I rejected as unneeded and unwanted any gifts that said, "that was excellent, meaningful and helpful." By body language or words I scoffed at those who said I had done a good job of preaching that morning. I acted like I needed none of that.
Then one Sunday morning, when I once again rebuffed a "gift-giver", she turned sharply and looked me straight in the face. "Why can't you just say 'Thank you'," she scolded.
I was stunned. Immediately I knew she was right, I was wrong. Weekly, I had taken her kind gift and trampled on it. Weekly, I secretly longed for encouraging words but showed no gratitude, acknowledged no neediness — just shoved away every gift offered, even though I craved each of them. My behavior disguised my hunger and denied her and others the pleasure of gift-giving.
From that Sunday on, I humbly responded: "Thank you, I really appreciate that", whenever anyone offered positive words about the morning message. I'd been bulldozed into honesty, out of the un-genuine pretending
I'd been practicing. I had been stopping those hurting gift-givers by straight-arming their kind words.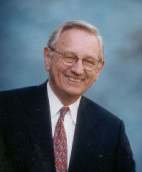 Dr. James R. Kok has written a series of articles on the essentials for a caring person. A handful of basic tools—wrapped in courage—are the keys to open doors.
As the Koach Of Kare,
Dr. Kok believes there are 10–12 key concepts of which every caring person should be aware—in order to step out
as an effective friend and support person. The concepts range from "naming the elephant" to "peace, peace, when there is no peace".