To Fight . . . or To Let Go
Hospice care is one of the most helpful and wonderful gifts to human life imaginable. Hospice care brings pain relief, loving-kindness and dignity to those whose life is coming to an end. Instead of tubes, machines and desperate procedures trying to keep a person alive, the person rests comfortably in familiar surroundings encircled by loving friends and family.
Stories have trickled in for decades about the beautiful moments surrounding death-angels, comforting voices, warmth, love and more. The end of life for many is not bleak and difficult.
But King Hezekiah wasn't ready for death. Life in this world challenged and called him. So he cried and cried out to God for a reprieve. The tears of the King touched the heart of God and God granted him an additional fifteen years.
There is a time to fight for life and there is a time to let go. Jesus also cried out to God, but He knew it was time to let go.
That is where I met Joyce. She was already well along in her life-ending illness. But we talked. Her mind was clear and her smile cheering, but she was thin and ebbing away. Then, as I held her hand, a beautiful scene flashed into my mind. I suddenly saw Joyce as a cocoon and then, emerging and floating upward, as a beautiful butterfly. A sad ending turned into a pleasant beginning.
__________________________
Write to us at ShowUp@careandkindness.org, or Like us on Facebook and add a comment there.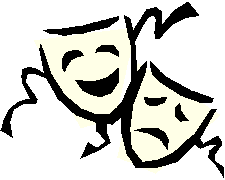 Laugh Lines
Silly Thoughts
At my age 'Getting lucky' means walking into a room and remembering what I came in there for.