Beware of the Infection of Self-Centeredness
As we grow older, there is a tendency to drift into preoccupation with ourselves: our health, our physical problems, our sleep, money, trips, grandchildren and more. The process also may include losing interest in others—their trips, interests, accomplishments, new items.
There is little as pleasant as another person taking interest in our lives. So it is essential that, as we grow older, and the self-centered drift progresses, that we resist it. It often requires a deliberate decision to move in that direction.
Not only does such a choice thrill the ones we show interest in, it is also an antidote against an older-person malady (me-ism) that turns others off.
Becoming a giver may require upgrading our self-concept. We must believe this truth—"I am a reservoir of blessings". We are all full of goodness and must be ready to overflow with nourishment for the souls of younger folks.
It doesn't matter who you are, or how healthy, educated, wealthy or attractive. You have within you words, interest, stories and expressions that can make a wonderful positive difference in the lives of younger men and women. We are all potential healers. Check that self-centered drift, and spill loving interest on some young ones. It can be life-giving to them, but it will always be spirit-lifting to us as well.
AS WE GROW OLDER, WE MUST DELIBERATELY TAKE THE SPOTLIGHT OFF OURSELVES AND TURN IT ON OTHERS.
__________________________
Write to us at ShowUp@careandkindness.org, or Like us on Facebook and add a comment there.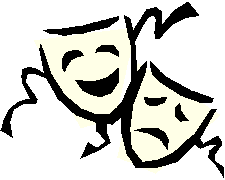 Laugh Lines
Silly Thoughts
At my age 'Getting lucky' means walking into a room and remembering what I came in there for.