More Simple, Kind Ideas
I'm still intent on convincing you that the beauty of acts of kindness are their simplicity. The power of acts of kindness is that such simple (so often over-looked) actions have tremendous, soul-lifting impact on people. And the misleading aspect of this simplicity is that people do these things automatically.
Sure, they smile. Sure, they pay compliments. Sure, they act friendly. But mostly they ARE automatic actions.
It is when you do these things INTENTIONALLY, in situations where it is not your natural reaction to a person or a situation, that makes the difference.
Offer compliments. "You look good". "I like doing business with you." "You have a good attitude." "I love your smile."

Inside us, and everyone, are many appreciative feelings, words of admiration, and gratitude. Most of them remain unexpressed, kept inside. We must let them out. Spread, spray, sprinkle good thoughts on people. We can take a moment during, or after, any transaction and put into words a short sentence of thankfulness, appreciation or admiration. Make it simple, direct, and personal.

It helps to plan ahead to offer such a parting gift. Take five seconds and think about what you will say—then say it with a smile.

Example: I was on the telephone trying to get repair services for our home phone. As the service representative finished with me, I paused and then said, "You are really a nice person." She literally gasped and then gushed her appreciation.


Say thank you. Whatever anyone does for you—if they fill out a form, hand you a check or receipt—point something out and say "Thank you," or "I appreciate your help."

Do this even in unexpected places, like with a mechanic or a dentist. I have said to my own dentist. "Thank you for the way you take care of me." Surprise people with friendly words of appreciation.

Example: I answered a phone call from the Laguna Playhouse. The caller was selling tickets for their upcoming series. There was no chance we would be interested, and her call was intruding on an important project on which I was working. Nevertheless, I said "Thank you for calling us. I appreciate your interest in our attending your productions." Needless to say, she concluded the call with exceptional warmth and kindness.
Excerpt from 'Thirteen Secret Behaviors' section of Jim Kok's book, Transform Belief Into Behavior. Available here from Amazon.
These 'Secret Behaviors' are not truly secret—but they are far too often overlooked. The humble effectiveness of being friendly cannot be over-emphasized. People all around us are hungry for a touch of care, concern, love, even simple acknowledgement.
__________________________
Write to us at ShowUp@careandkindness.org, or Like us on Facebook and add a comment there.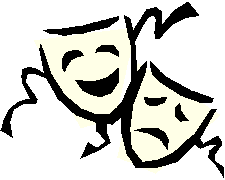 Laugh Lines
Silly Thoughts
At my age 'Getting lucky' means walking into a room and remembering what I came in there for.