Stop Worrying; The Lord Holds On To You
The saddest visits I have made as a Pastor are those in which God's good people were scared about their eternal security in their dying days.
Anna asked to see me in her waning hours. Her life was being cut short by lung cancer. Ana was only 47 years old, a hard-working single mother. She was having difficulty breathing, and, with a tube in her nose, talking wasn't easy either. What she wanted to talk about went something like this: "I'm in so much pain, I can't keep my mind on Jesus. I'm afraid that I can't hang on to God and that scares me. I feel so weak and I'm thinking about my children and feeling troubled over much of my life. I'm afraid I won't have enough faith to go to heaven."
I knew Anna somewhat. I had greeted her occasionally on Sundays; I had witnessed her profession of faith when she joined the church. So we weren't starting from scratch in our hospital-based conversation. She shared a few more thoughts and I mostly listened and made brief comments to help her talk. Then I decided she was tiring and I wanted to give a solid response to her fearful concerns.
"Anna," I said slowly, grasping her hand in mine, "Jesus holds on to you. It is not up to you to hold on to Jesus." Then I added, "The Lord Jesus will never leave you or forsake you. Please relax and let that promise embrace you." I said it a few more ways and then I prayed along the same lines, endeavoring as best I could to saturate her soul with confidence and security that she was forever safe in the arms of Jesus.
I cannot adequately describe the look on Anna's face. It became totally peaceful, with a slight, incredulous smile. Obviously, something enormous had changed within her. Then she said, with tears of joy, "I've never heard it that way. That is so good. Thank you. Thank you. Thank you." Her life ended a few days later.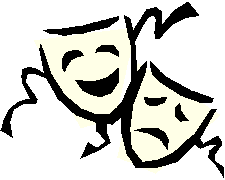 Silly Thoughts
At my age 'Getting lucky' means walking into a room and remembering what I came in there for.