A Kindness Suggestion for Christmas Time
Last night, at about 8:00, I stopped at a home, the residents of which were strangers to me. I rang the door bell and a man came to the door. He looked puzzled by my presence, which he should have been, since we had never met.  I greeted him and simply said, "I just stopped to tell you how much I appreciate the Christmas lights on your house and bushes. This is the most beautiful display in the neighborhood. Thank you!"
He smiled in appreciation and explained a little about how long he has been doing it and how he got started. But the main thing is that he was patted on the back by a stranger for making the world, at Christmas, a more beautiful place.
Go and do likewise, my friends. I felt like a million dollars after that stop. And I think he did too.
__________________________
Write to us at ShowUp@careandkindness.org, or Like us on Facebook and add a comment there.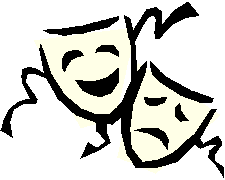 Laugh Lines
Silly Thoughts
At my age 'Getting lucky' means walking into a room and remembering what I came in there for.