Conference Speakers
---
Keynote Speaker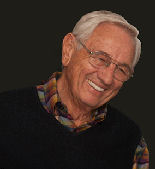 Dr. James Kok
How to Become a Happier Person
Something very important is underway in the way we must think about the call to good living. Careful research is confirming Jesus' call to "love one another" is behavior that is good for us, as well as those being cared for. It is guidance that will bring happiness and satisfaction into our personal lives.
Looking at the Average Man or Woman
Rethinking the long history of class systems and divisive attitudes towards other people is long overdue in our Christian communities. We will take a fresh look at the correct way to think about, and relate to, the stranger, the "worldly" neighbor, the clerk at the drug store.
God is Love. Love is God.
The Biblical text "God is love" is familiar to all of us. The logical follow-up is to turn it around and say "Love is God". That means that when you are touching someone in a loving way, it is touching them with God's love. It means that all people are instruments of God, whether or not they are believers in God.
Dr. James Kok has been an ordained minister for 50 years and is the founder of Care and Kindness Ministries, which presents conferences throughout the United States to train and motivate people in the Vision of Care and Kindness. His book, The Miracle of Kindness is the virtual textbook for this vision. He speaks extensively throughout the United States and Canada.
Dr. Kok was Director of Care Ministry for the Crystal Cathedral Congregation of Garden Grove, CA for 29 years. As a certified Clinical Pastoral Education Supervisor, he trained churches, pastors and telephone counselors in care methods.
He writes for the Care Capsule and is the author of six books. The most recent one, Transform Belief Into Behavior, has just been released.
---
Other Speakers
Kay Warren
Getting Through What You're Going Through
Kay Warren, cofounder of Saddleback Church with her husband, Rick, is an international speaker, best-selling author and Bible teacher who has a passion for inspiring and motivating others to make a difference with their lives.
She is best known for her 10 years as a tireless advocate for those living with HIV and AIDS, and the orphaned and vulnerable children left behind. As an advocate, she has traveled to 19 countries, calling the faith community as well as the public and private sectors to respond with prevention, care, treatment and support of people living with the virus.
Kay is author of several books including her newest Choose Joy: Because Happiness Isn't Enough (Revell, April 2012), which was adapted from a Bible study she first taught at Saddleback Church in July 2011, drawing more than 5,000 women for the four-week sessions. In the book, Kay describes how painful experiences – two bouts of cancer, watching as life-threatening illnesses attacked her children and grandchildren and living with mild depression most of her life – have shaped her conviction that joy is a choice and within the reach of every person, no matter how desperate or dark circumstances may be.
She is also author of Dangerous Surrender, which was originally released in 2007 and revised, expanded and published as Say Yes to God (Zondervan) in 2010, and coauthor of Foundations: 11 Core Truths to Build Your Life On with Pastor Tom Holladay (Zondervan) in 2004.
Additionally, Kay has also written for Christianity Today, Purpose Driven Life, CNN.com and The Washington Post, and has been featured in Newsweek, Reader's Digest, Guideposts, Sojourners, POZ and Today's Christian Woman magazines, among others.
Kay attended California Baptist College and earned her B.A. from California State University, Los Angeles. She is mother to Amy, Joshua and Matthew, and grandmother to Kaylie, Cassidy, Caleb, Cole and Claire.
---
Madeline Anich
Caring for the Orphans of Orange County

Madeline's passion to fight for the needs of orphans and children in foster care was sparked through her relationship with the children previously in foster care that are now in the home of her own family. They served as a foster family for 3 years and went on to adopt two amazing children internationally with the help and support of Child S.H.A.R.E. Madeline pursued a degree in psychology with the heart to use her skills to help restore and redeem the wounded lives of adopted and children in foster care and graduated in May 2011 from California State University Long Beach with her BA. Madeline's personal experience as well as volunteer experience with a variety of non-profit organizations and foster family agencies led her to join the Child S.H.A.R.E. team as a recruiter in the O.C. and Riverside counties in October 2011. During her free time, Madeline loves to go hiking with friends, practice yoga, cook, and spend time with her family. 
---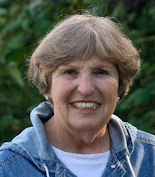 Dr. Beverly Battaglia
Changing Lanes, Redefining Retirement
This workshop will guide couples in maintaining productive and healthy relationships as they age. Dr. Battaglia's book is a boon for anyone seeking advice, support, education, and creative approaches to a successful and satisfying retirement.
Dr. Beverly Battaglia a social psychologist and aa popular teacher of college courses, has dedicated her career to the study of change, cultural and generational nuances of age, gender and ethnicity. She has published two books and a long-running subscriber newsletter, "Cross Cultural Connection", about improved interactions between diverse cultures.
---
Kari Buist-Baker
RN - Founder of Senior Life Management, Inc.
Tools and Resources for the Sandwich Generation
Kari Buist-Baker is a Licensed Register Nurse, Nationally Certified Case & Care Manager, a Certified Gerontologist and Legal Nurse Consultant. She is a member of multiple professional organizations and was a Consultant for the 2011-2012 Orange County Grand Jury's report on Elder Abuse titled: "The Perfect Storm". She founded Senior Life Management, Inc. with a passion to answer the critical needs of families, seniors and disabled adults who found themselves lost and struggling with care and decision-making dilemmas for themselves or their loved one. Kari's rich background of education and years of professional experience alleviates the stressors and fragmentation that can occur in these situations.
Kari coordinates a wide-range of specialized skills and services with available vetted and community resources, physicians, and other professional entities to implement the very best care for her clients and those in 'The Sandwich Generation'. She and her staff are a solid communication link between aging adults, family members, all healthcare providers, facilities, and other essential components of teamwork.
---
Barb Christing
Raising Generous Kids
Help the children in your life become all that God intended them to be.
Barb Christing is a speaker and writer who loves to help women discover that "Joy comes from knowing God, and following his invitation to be his hands and feet in this world." For the past 25 years Barb has also served God through her writing. Her articles have appeared in magazines and newspapers as diverse as MomSense Magazine and The London Free Press. She was inspired to write African Heartbeat—her first children's picture book, published by World Vision—as a result of her daughter's heart warming response to sponsoring a child. But Barb hasn't spent her whole life talking and writing. She's also hiked the Himalayas of Nepal, ridden camels in the deserts of India, navigated a bamboo raft down the rivers of Thailand, worked with Orangutans in the jungles of Indonesia, hiked the Inca trail to the ancient ruins of Machu Picchu in Peru, and worked as a biologist in the Canadian Arctic. It was in Malawi, Africa however, that Barb finally met Jesus. Barb has been the Director of Special Programs for Global Investing at Whittier Area Community Church in Whittier, CA, and presently serves on their Missionary Administrative Team. She lives in southern California with her husband Adam (the founder of Clean Comedians), Katie and James (their youngest of four kids), and their fluff ball of a dog, Nikki.
---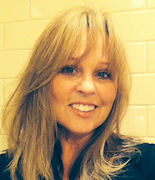 Terri Green
Practicing Simple Acts of Kindness
Terri Green shares her bittersweet memories of those who helped her family weather years of medical and financial struggle. Her oldest daughter underwent 21 surgeries as a child and was left without the ability to speak, walk, or perform normal daily activities. Her second daughter had surgery as an infant and survived only because of answered prayer. During these hardships, the Greens were blessed with many friends and even strangers who came to their aid by bringing simple gifts like a fresh-cut rose, lightening the work load by washing the family cars, and even delivering toilet paper! Terri encourages people to reach out and take the first step to help someone in need. Her book, "Simple Acts of Kindness", is filled with uplifting true stories and great ideas on how to extend practical aid to those in need of physical, emotional, and spiritual support.
Terri is an inspirational speaker whose story leaves audiences spellbound. She cherishes her role as mom to three beautiful girls and finds great joy in encouraging women of all ages to persevere through hardships of their own. She lives in Mission Viejo, California.
---
Jackie Kosewick
Enlarge Your Heart – Giving Thanks
Jackie Kosewic recently retired from Marriage and Family Therapy and is currently a writer and speaker. She practiced professionally in private Christian counseling groups in Orange, CA, Minnetonka and Eden Prairie, MN, and Mission Viejo, CA through the course of her career. She has worked with Drs. John Townsend and Henry Cloud, leading Experiential and Process groups for the Ultimate Leadership Training and Ultimate Counselors Training from 2005 to 2011.
She taught Positive Parenting Classes through Santiago Community College District, and led Psychodrama groups for New Life Treatment Center in Anaheim and New Start Addiction Recovery homes. She served as Chairman of the Minneapolis Chapter of Christian Association for Psychological Studies from 1994-2001 and Facilitator Supervisor for SouthWest Grief Coalition in Eden Prairie, MN from 1995-2001. In 2003, Jackie helped establish the Stephen Ministry Program at Presbyterian Church of the Master in Mission Viejo, and continues to be an active member of the leadership team.
Jackie received her Bachelor of Science degree at Concordia University, Seward, NB, where she majored in Christian Education and Theology. She earned her Master of Arts degree in Marriage, Family, and Child Counseling from Azusa-Pacific University, and has been licensed as a Marriage and Family Therapist (MFT) in CA since 1991. She married her high school sweetheart, John, in 1969; and is the mother of three married children and the proud grandmother of six. Her JOY is helping others grow and discover their strengths and gifts as they allow God's Spirit to fill their lives and find their true identity in Christ. Philippians 4:4: "Rejoice in the Lord always, and again I say, rejoice!"
---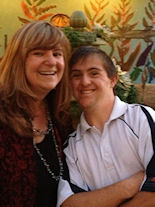 Sandra Assimotos McElwee
Who's the Slow Learner? A Chronicle of Inclusion
Sandra Assimotos McElwee is an advocate for unborn babies with Down syndrome and created one of the first websites for parents with a prenatal diagnosis. McElwee contributed to the books, "Gifts: Mothers Reflect on How Children with Down Syndrome Enrich Our Lives," and "You Will Dream New Dreams, Inspiring Personal Stories by Parents of Children with Disabilities." Married over twenty-one years to Sean's father, Rick, they enjoy traveling and participating in Sean's sports activities. A medical sales professional, McElwee's most important job is being Sean's mother.
Sean McElwee was born with Down syndrome and entered his neighborhood school as a fully included kindergarten student with the supports, accommodations and modifications he needed to be successful. He was included in all aspects of his elementary school; learned to read, exceled in math, performed in Talent Shows and most of all made many friends. Sandra and Sean will share the story of pioneering his inclusion with the result of transforming an entire elementary school from segregated special day classes to all student with disabilities becoming included in regular education classes. 
Sandra Authored the Book, "Who's The Slow Learner? A Chronicle of Inclusion and Exclusion" the first book to follow a student with special educational needs' educational journey from preschool through high school graduation. Sean  is now 20 years old, lives independently in Laguna Beach attends a Transition Program and takes classes at Saddleback College.
---
John Parent, GySgt USMC (Ret )
Caring for Our Veterans
John will share information about the services and benefits available to our veterans and their widows!
The Mission Statement of the O.C. County Veterans Service Office reads we "will actively pursue the rights of veterans and dependents of the United States Armed Forces to receive Department of Veterans Affairs benefits. We will work collaboratively with nationally chartered veterans organizations, the Department of Veterans Affairs and others to assure that veterans and their dependents receive the entitlements they have earned for their military service. 
---
Sandra von Paul
Estate and Legacy Planning for Families
Financial Preparedness for Retirees
Sandra von Paul was a Senior Vice President and Senior Wealth Planning Strategist for Wells Fargo Private Bank in Newport Beach for 14 years. She has over 25 years experience in estate and financial planning and trust administration. She was responsible for helping wealthy families transition their assets effectively to the next generation. Sandra joined Wells Fargo in 1999 after five years as a Regional Trust Specialist at Merrill Lynch Trust Company of California in San Francisco and San Diego. Prior to that, her career included fifteen years working as a Trust Officer with Scripps Bank in La Jolla and HomeFed Trust in San Diego. Sandra's investment experience includes eight years with the Institutional Department of Merrill Lynch.
---
Steve Pitman
Building Empathy for the Mentally Ill
Steve Pitman began to get involved with National Alliance on Mental Health (NAMI) in 2006.  and has been on the board of NAMI Orange County since July 2010. He comes from a long line of ministers and came to California to go to seminary, but NAMI has become his ministry.
Steve's father had polio as a young boy. He was rejected by the Army because of his physical disabilities, but he found a National Guard unit whose physical requirements were more relaxed.  He spent most of the next 26 years in the Army as a Chaplain. In part, because of his father's disability, Steve is extremely sensitive to those with special challenges.
Almost 50 years ago Steve's older brother, John, began to have problems with mental illness and was hospitalized around 100 times. John died in January, 2013, not because of "traditional" physical problems that come to mind, but because of a loss of hope, because of a lack of connection. John taught Steve things about mental illness, and because of him, Steve learned of NAMI. Because of John, he was also able to productively support his granddaughter, Melissa, who has bi-polar disorder.
Steve and his wife share seven children and 20 years ago, four of their grandkids moved in for two or three months but are still with them today. The youngest is 19. The oldest is Melissa who is 27. Melissa leads a very productive engaged life and works in the mental health field and attends graduate school.
---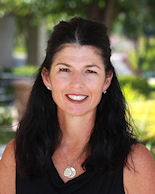 Vanessa Renich
Circle of Safety for the Preschool Child
Vanessa Renich is the preschool director of Presbyterian Church of the Master Preschool in Mission Viejo, California. She joined the PCOM family in August of 2013 and prior to that had been the preschool director/preschool teacher at Talega Life Church Preschool in San Clemente, California since 2007. Under a special ELL grant, she worked as a kindergarten teacher at Linda Vista Elementary School, SVUSD from 2006-2007 (where she was a student teacher in 2005.) Vanessa was also a preschool teacher at Robert H. Lange Christian Preschool from 2005-2006.
Vanessa has a Bachelor's Degree in Early Childhood Development from California State University Fullerton, 1999. She also has a California State Teaching Credential and a Masters Degree in Cross Cultural Teaching from National University. She is a Mission Viejo native, and currently resides there with her husband and three children.
---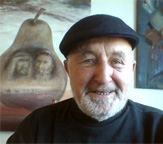 Sam Silberberg
Caring Courageously to Combat Intolerance
Sam will share his story of surviving the Holocaust with the hope of helping people work together to make the world a more caring place.
Sam Silberberg was born in Jaworzno, Poland, to an orthodox Jewish family, Sam Silberberg was ten years old when the German army occupied Poland in 1939. His family was forced to move from their hometown when the Germans began their program of systematically annihilating the entire Jewish population of Europe. His family ultimately ended up in the Shrodula Ghetto. Later, Sam was sent with his father to the Annaberg and Blechhammer concentration camps where he was tattooed with the number 178509 on his left forearm. In the camps he and his father kept an ongoing dialogue on the value of life and the reason for living. During the Death March of January 1945, Sam made a daring escape to a Catholic convent where his mother worked as an Aryan woman.
Sam has authored two books, From Hell to the Promised Land and What Made Sammy Run?: My Story. He has been a featured lecturer at the Museum of Tolerance, churches, synagogues, and universities.
Sam and his wife, Anita Natzler, have been married for 53 years. They have two children and two grandchildren. Sam and Anita live in Laguna Woods, California.
---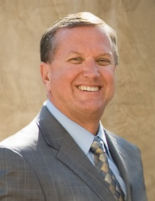 Jeff Turner
Breathing Under Water: Understanding the Value of Grief
By the end of the session you will have learned healthy ways to help navigate the uncharted waters of loss and how to be a beacon of support for those in grief.
Jeff Turner is the Chief Administrative Officer and Trainer for O'Connor Mortuary. He graduated from the Mortuary Science program at Cypress College in 1987 and began working at O'Connor Mortuary in 1989. He has been a partner with the firm since 1999. Jeff is privileged to serve on the Cypress College Department of Mortuary Science Advisory Committee; he and his wife, Karen, reside in Huntington Beach and are proud members of Bethany Church in Long Beach where Jeff has served on the Elder Board since 1993. His hobbies include computers, small boat building and sailing.  Jeff is a cancer survivor and his ordeal has given him some insight into what many of the families he serves experience in the time leading to the death of a loved one. It is his great privilege to help just such families at O'Connor Mortuary.
---
David Wells
Worship Leader
David Wells has a degree from the Bob Cole Conservatory of Music at University of California, Long Beach, in vocal performance. Currently he is choir director at Capistrano Valley Christian High School and Worship Leader at Trabuco Presbyterian Church. 
---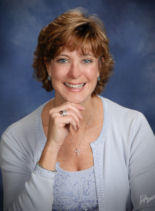 Karen Wilkinson
Caring Communications
Karen Wildinson is a licensed Marriage Family Therapist and Founder of Wellspring Counseling Center and Ministries. She received her Doctorate and Master's degree in Psychology from Pepperdine University and Bachelor's degree in Psychology from the University of California, Irvine. She is an EMDR certified clinician and a Certified Grief Recovery Specialist. In addition to maintaining a full-time private practice, Karen has taught psychology and child development classes as an Adjunct Professor at Hope International University in Fullerton. 
Karen's training background includes: working with adolescent juvenile offenders, their families, and coordinating treatment with police and probation in an Orange County Juvenile Diversion Program; counseling college students at a University Counseling Center; working with military service men, women, and their families at the former Marine Air Corps Station in El Toro; and providing inpatient treatment in a hospital setting. Karen specializes in treating depression and anxiety disorders along with post-traumatic disorder, grief, and childhood disorders such as ADHD. She sees individuals, teenagers, children, couples, and families in her practice. Karen is a long time member of Presbyterian Church of the Master in Mission Viejo.
---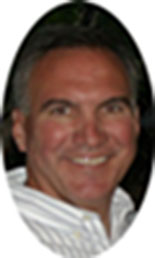 Chuck Williams
The Sandwich Generation
Chuck Williams was "raised" in the long term care industry...his father was an owner/operator of skilled nursing facilities for 30 years. Chuck himself has been professionally involved in the LTC industry for 32 years, managing nursing homes, assisted living, Alzheimer facilities and a home health agency. He has also spent a significant amount of time managing therapy programs (PT, OT, SLP) in various healthcare settings.
Chuck has been married to his bride, Cynthia, for 33 years and is blessed with three sons, 2 daughters-in-law, one grandson and the best K9 in the county, Charlee. He is a Stephen Minister and Reserve Lieutenant in the Orange County Sheriff's Department, with responsibility for directing the Technical Rescue Team of the Search and Rescue Unit.